Helping Address Safety Net Inequities and Economic Barriers
Communities of color are being harder hit by COVID-19 through higher rates of hospitalizations and death; in New York City the virus has been twice as deadly for Black and Latino residents versus white residents. In addition to health inequities, Blacks and Latinos are bearing more of the negative economic implications from the virus — further compounding historic racial disparities and over representation within the criminal justice system.
With several states and cities accelerating releases it is critical that the resources provided to people coming home from incarceration reflect the immensity of the challenge reentry poses under social distancing and an economy that is severely retracting.
That is why CEO is leading a first in the nation direct financial assistance program exclusively designed for people coming home from incarceration - Returning Citizen Stimulus (RCS) program. Seeded by philanthropic investments, CEO is providing payments to anyone entering its program and, in select cities, people connected to other reentry organizations. The RCS program provides direct payments of up to $2,750 to 8,800 people nationwide over the next 5 months.

Just as the federal government passed a stimulus plan that would provide a majority of Americans with direct cash payments, we should be providing people coming home from incarceration with increased financial resources upon release, as well as a connection to supportive services.

This project is meeting immediate financial resource needs, while also incentivizing the public sector to act on broader criminal justice reform and the creation of more inclusive economies.


Strengthening Communities
Recognizing the tremendous work of our regional reentry colleagues and partners, CEO has expanded the RCS program to other justice-involved individuals in 6 target cities, all of which have been deeply impacted by COVID-19. To scale the reach of the RCS program CEO has established partnerships with other local reentry providers to promote better connections to quality services for individuals returning home from incarceration.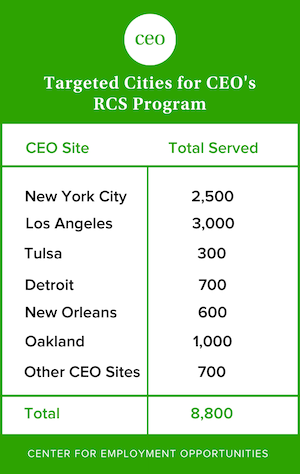 Leveraging System Change
COVID-19 is testing both our civic structures and our values. State and local leaders are being forced to find ways to reduce their incarcerated populations in the interest of public health and safety. Individuals being released from incarceration, who already face barriers in the best of economic times, are facing new challenges as they return home to communities devastated by COVID-19. While the RCS program can address people's immediate needs, it alone will not solve the structural challenges that plague our justice system or heal the disproportionate impact of the pandemic on communities. CEO is using the RCS to push state and local governments to make long needed reforms that shifts spending from expensive and ineffective incarceration policies, towards increased investments in more effective community-based programs. Specifically we are advocating for states to do the following:
Reduce the number of people incarcerated through increased releases and alternatives to incarceration
Improve reentry systems and processes to better support people during reentry
Sustain and increase investments in critical reentry services
Reduce and eliminate financial burdens (e.g. fines and fees)