Innovative Financial Assistance Program Addresses Safety Net Inequities and Economic Barriers for Returning Citizens
COVID 19 is ravaging the health and economic well-being of our communities, with the biggest impact on communities of color. The federal response to COVID 19 perpetuates racial bias and economic deprivation for communities of color. The federal government passed a stimulus plan that provides a majority of Americans with direct cash payments; however, this program did not provide the same support to many people coming home from incarceration.
Justice involved individuals already faced significant inequities and barriers to reentering their communities, including employment discrimination. Black and Latinx Americans are overrepresented in our incarceration system and therefore are less likely to qualify for federal cash assistance. With several states and cities accelerating releases from incarceration, it is critical that the resources provided to people coming home from incarceration reflect the immensity of the challenge reentry poses under social distancing and an economy that is severely retracting. Financial assistance should prioritize the most impacted persons and communities to position them to participate in the recovery and renewed employment opportunities to follow.
The Center for Employment Opportunities (CEO) is leading a first in the nation direct financial assistance program exclusively designed for people coming home from incarceration - Returning Citizen Stimulus (RCS) program. With funding provided by philanthropy, CEO is able to provide payments to participants both in its program and in non-profit or government partner programs in select cities to provide support to individuals during this period. The RCS program provides direct payments of up to $2750 to 8800 people nationwide over a 5 month period. In connection with these payments, individuals are supported to meet goals that will improve their employment prospects as the economy recovers.


Strengthening Communities
In order to scale the reach of the RCS program and to recognize the importance work of regional reentry partners, CEO has expanded the RCS Program to clients of local partners in 6 target cities.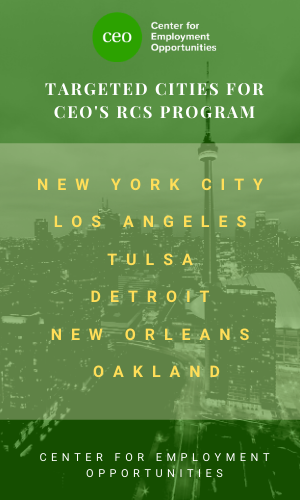 Leveraging System Change
COVID-19 is testing both our civic structures and our values. State and local leaders are being forced to find ways to reduce their incarcerated populations in the interest of public health and safety. Individuals being released from incarceration, who already face barriers in the best of economic times, are facing new challenges as they return home to communities devastated by COVID-19. While the RCS program can address people's immediate needs, it alone will not solve the structural challenges that plague our justice system or heal the disproportionate impact of the pandemic on communities of color. The RCS program serves as an example of more effective ways to utilize funds and to encourage state and local governments to make long needed reforms, including those that will shift spending from expensive and ineffective incarceration policies, towards increased investments in more effective community-based programs. Among other issues, CEO is advocating for the following, which will improve the prospects of justice involved individuals to reenter the workplace:
Reduce the number of people actually incarcerated through increased releases and alternatives to incarceration
Improve reentry systems and processes to better support people during reentry
Sustain and increase investments in critical community based reentry services
Reduce and eliminate financial burdens (e.g. fines and fees) upon reentry
Promote inclusive hiring and laws that address employment discrimination based on a criminal record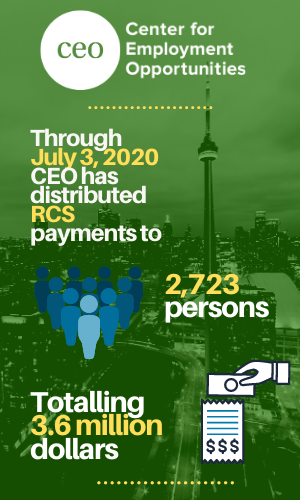 CEO is working with the research firm MDRC to assess the impact of the program and promote learning to inform future large scale reentry efforts. This includes collecting stories and feedback on the program from stimulus recipients describing how the financial support has helped them during the pandemic.
RCS Partners